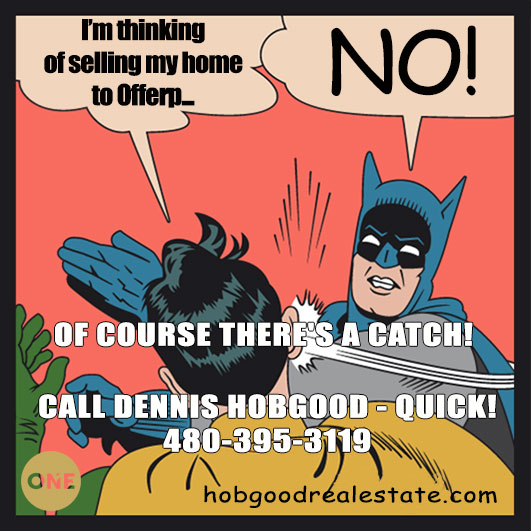 Do you have a home to sell? Are you looking for that "Ultimate Selling Experience" you've been hearing about all over the place? Then I'm sure the many ads from a certain company have gotten your attention. But would these ads still sound appealing if they told you you're getting:
• A below market offer (you probably already assumed this much)
• You still pay a full commission (both buyer and seller side) plus additional fees
• They still do a home inspection and you pay for the "repairs"
OK fine but you want the convenience and you know you're giving up some money for the sake of convenience right?
Here's a thought: If you're really dying to get an investor offer; exchanging money for the convenience of time or not having to make your bed, why not allow me to bring multiple investor offers to the table? Yes I have access to multiple investors and yes, it can be all done with minimal disruptions!
Remember everything in Real Estate is negotiable! That is unless you give your negotiating power away. With these "Ultimate Selling Experience" guys, you actually pay them an agent's commission., and yes, they are agents, but they don't work for you, they work for themselves. Ask yourself this: If they're buying it for themselves to resell - themselves, why are you paying them both a seller and buyer side commission? AND If they're in the business of flipping houses, why are you paying for repairs?
At least let's talk. Call me today, I'll give it to you straight and let you know of various options that keep you in control! 480-395-3119, hobgoodd@gmail.com, hobgoodrealestate.com